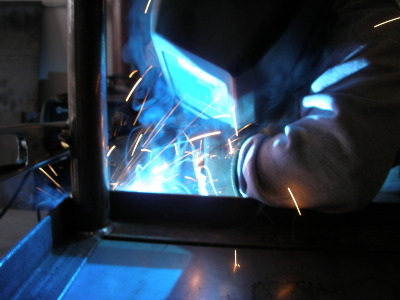 THE KEY WORD AT SABRE METAL WERKS IS CUSTOM. THOUGH IT IT COMES NATURAL FOR OUR DEDICATED TEAM, WE STRIVE TO BE DIFFERENT--TO THINK OUTSIDE OF THE BOX. WE WANT TO HELP OUR CUSTOMERS CREATE PIECES THAT MAKE A STATEMENT, ALBEIT SUBTLE, GRACEFUL, BOLD OR EXTRAVOGENT--WORKS OF TRUE FORM METAL ART THAT DEFINE WHO THEY ARE OR WHAT THEY ARE ABOUT.

WITH A MASTER CRAFTSMAN OVERSEEING ALL OF OUR PROJECTS, IN or OUT OF HOUSE, WE ARE ABLE TO BRING METAL TO LIFE. FROM MILD TO WILD BABY, WHEATHER IT IS:

ADDING A UNIQUE CUSTOM TOUCH TO YOUR CAR, TRUCK, 4x4, TRAILER, ATV, UTV OR SCOOTER

COMMERCIAL STEEL FIXTURES
COMMERCIAL METAL INDOOR OR OUTDOOR SIGNS

CUSTOM SCENE CUT DRIVEWAY SWING GATES
GARDEN SCULPTURES, ORNAMENTS, SCENE CUT GARDEN BORDER FENCING AND KINETIC WINDMILLS AND YARD ORNAMENTS

CUSTOM FIRE RINGS AND BBQ GRILLS
INDOOR AND OUTDOOR METAL FURNITURE, FIXTURES, and WALL ART FOR COMMERCIAL AND RESIDENTIAL

CUSTOM SCENE DECK RAIL PANELS AND GATES
METAL GARDEN AND WALL DRIP OR SHEET WATERFALLS--copper esthetically works best

CUSTOM RURAL MAILBOXES THAT DEFY ANY LOUISVILLE SLUGGER
CUSTOM HOME, LOG HOME OR STEEL BUILDING CUT HARDWARE, FIXTURES, BARS, METAL COUNTERTOPS

FRAME AND SUSPENSION PARTS
OR

TRUST IN OUR CONFIDETIALITY TO HELP FABRICATE YOUR IDEA OR PROTOTYPE FOR PATENT SUBMISSION.